Last week, before Bev and I went shopping in the city, we had lunch at
Mamak
which opened last October in China Town. Bev said for the most authentic roti, this is the place to go. I couldn't wait!
Click here
for more on Mamak fare.
My mouth started watering as soon as we walked up to the entrance. Two guys were busy making the rotis and it was fun to watch them as I wondered which one to get.
We get a Roti Canai (AUD$5) each which is served with curry dip and spicy sambal sauce. It's light and fluffy, although a little doughier than ones I've had previously and not as crispy. I dip it into the curry and sambal which are quite spicy but with a delicious sweetness.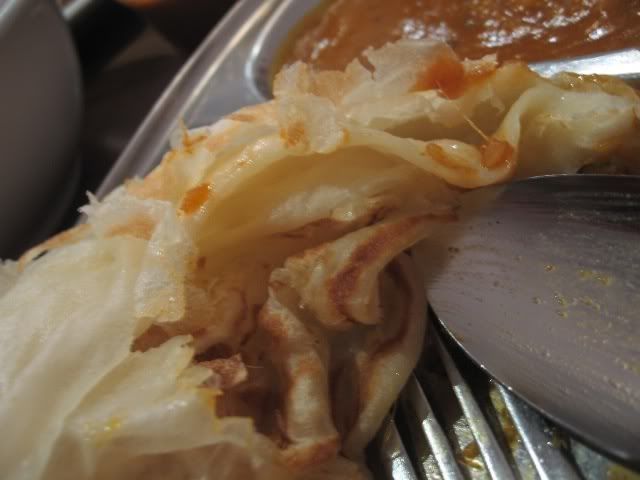 Bev says it's the tamarind - I buy a jar of when we're at the grocery later to put into my next curry!
Next time I might try the roti with the rich buttery sauce, or ooooooh, made the Bawang with "lashings of sweet red onions" oh my!
The chicken satay sticks (AUD$14 for a dozen) are delicious, juicy and lightly smokey and even better with globs of sweet and sour and very peanutty satay sauce which we received a big bowlful of. I munched on the chopped cucumber which came with it as well, but not the red onion, as I prefer my red onion in very thin slices or cooked!
For dessert we have
Roti tisu (AUD$7)
and oh my goodness, it is BLISS!! I don't know how they do it, but it is ultra thin (and in the shape of a party hat ;) and it has a sort of salty sugary taste. Bev asks for it to be drizzled with condensed milk. The crispiness and the sweet thickness of the milk have a party in my mouth.
It's going to be very hard next time because I'll want the tisu again but I also want to try the roti kaya (AUD$6.50) "filled with a traditional spread made from pandan and coconut".
We also had Cendol (AUD$5) which is "starch noodles made from fresh pandan leaves, with gula-melaka syrup, coconut milk and shaved ice." The coconut milk is almost caramelly and a little salty. Yum. This dish is a bit too cold for winter though. Will be great in summer! Even if it does look like a Klingon's dessert!
Making the goodies. Guy on left is making a stuffed roti with meaty curry.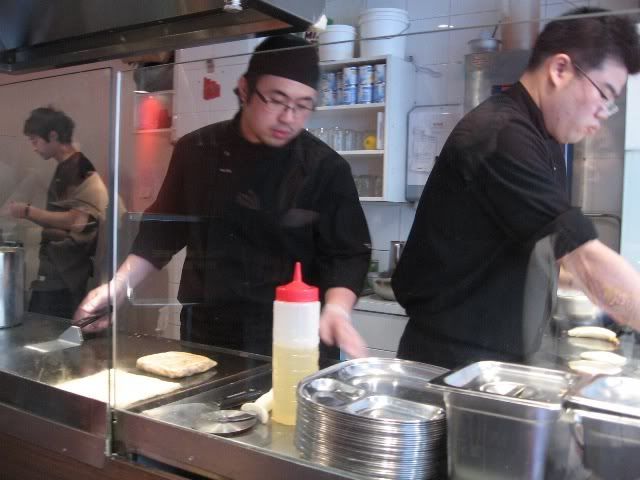 This is art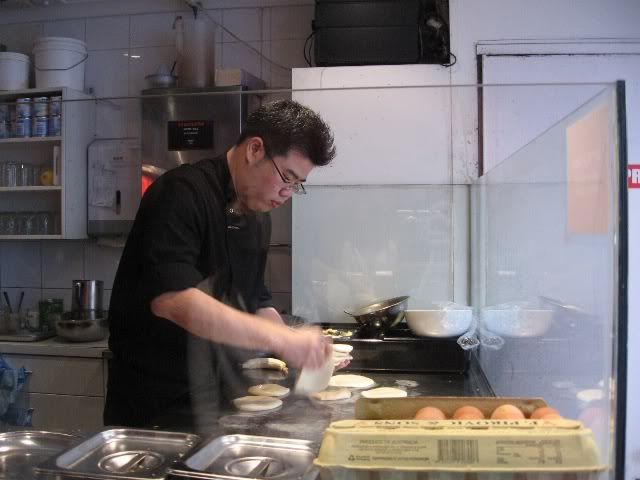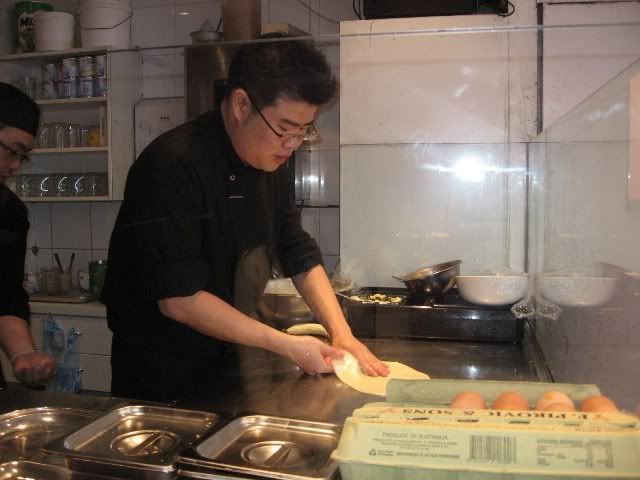 Flip!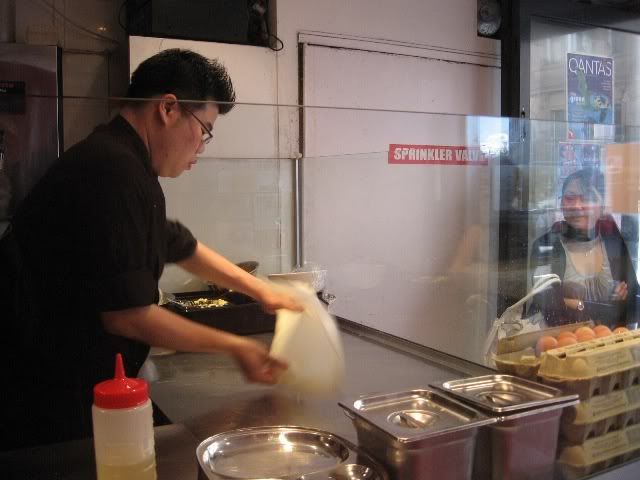 Super thin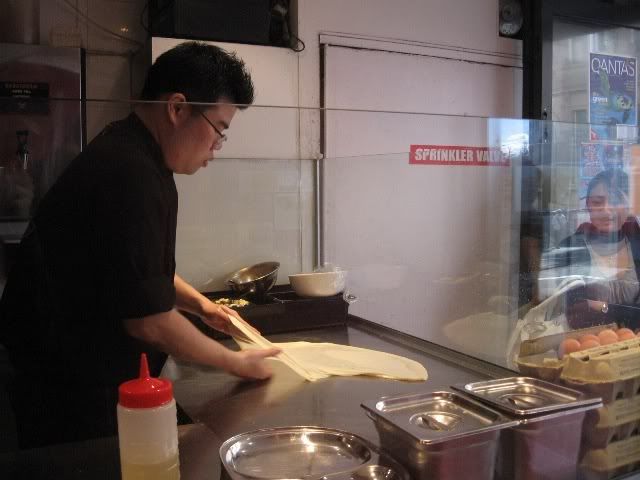 The restaurant.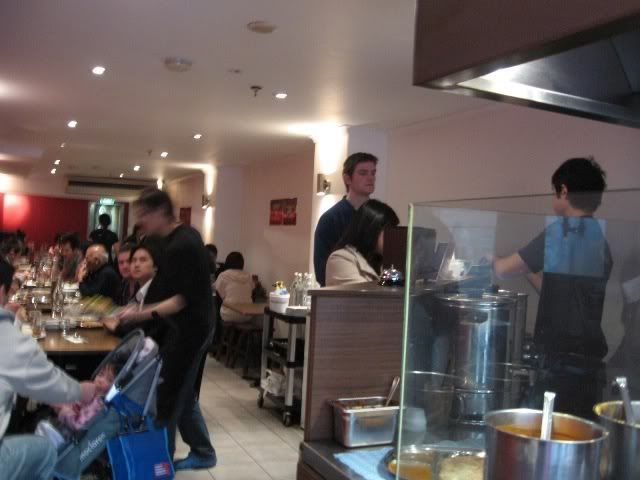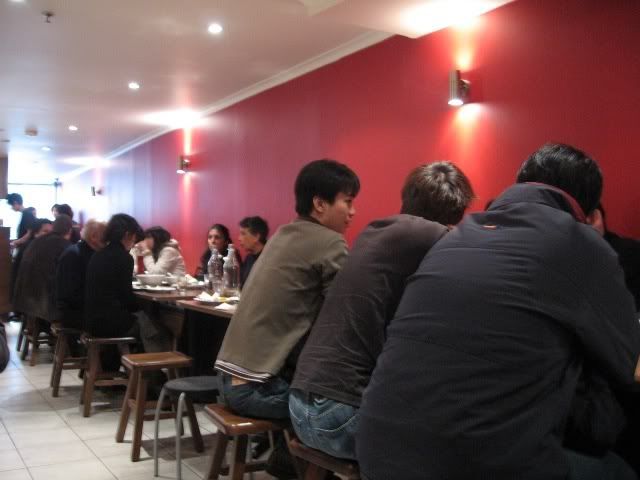 Some of the desserts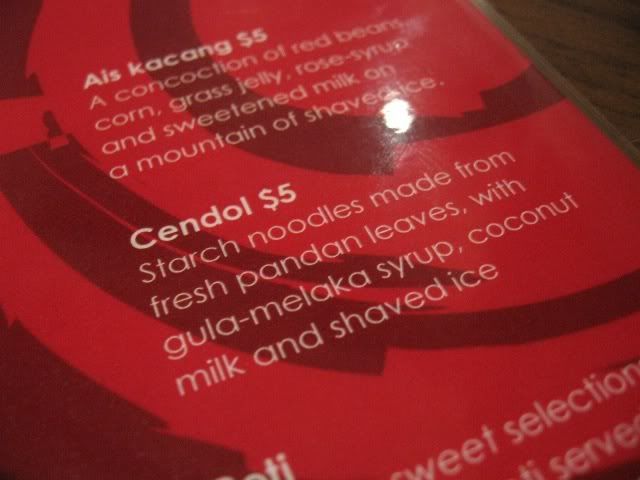 Our heavenly meal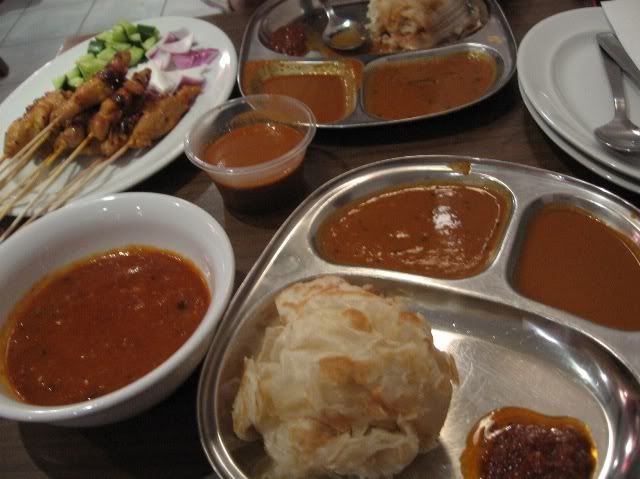 Bev digs in. Yum!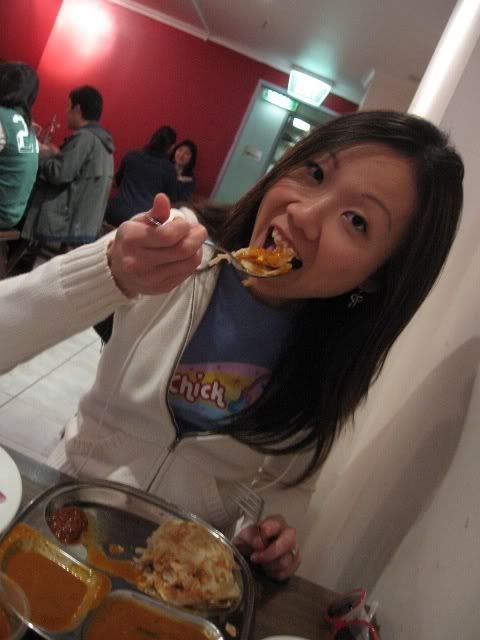 A ball of roti goodness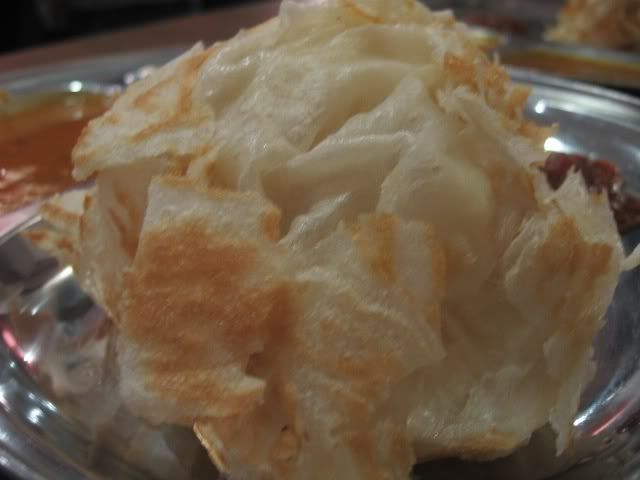 Chicken!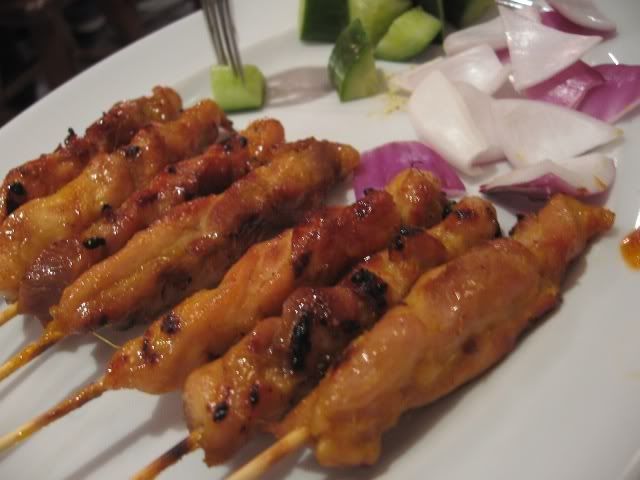 Me and Roti tisu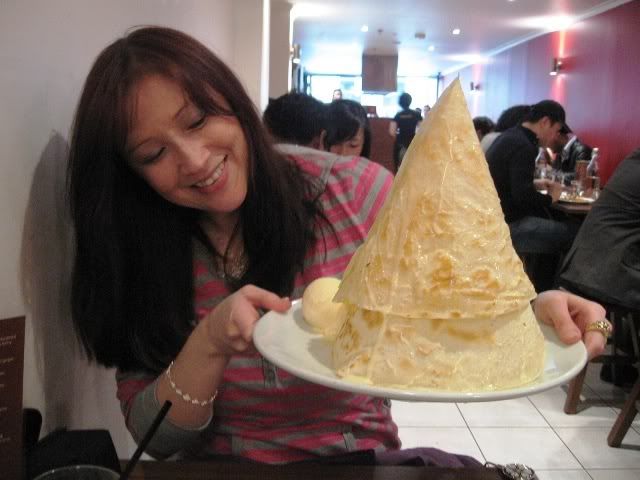 aka Party Hat!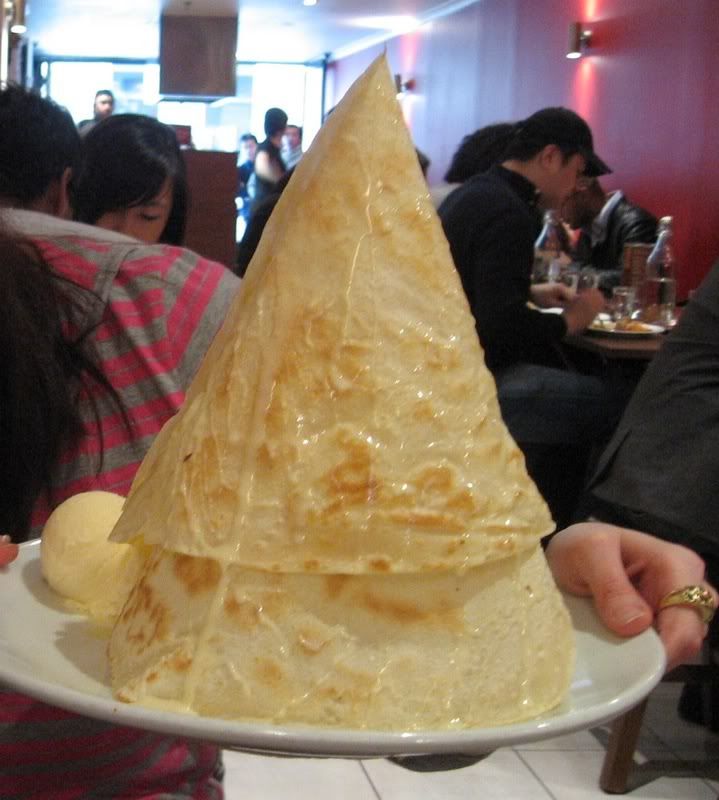 Melty condensed milk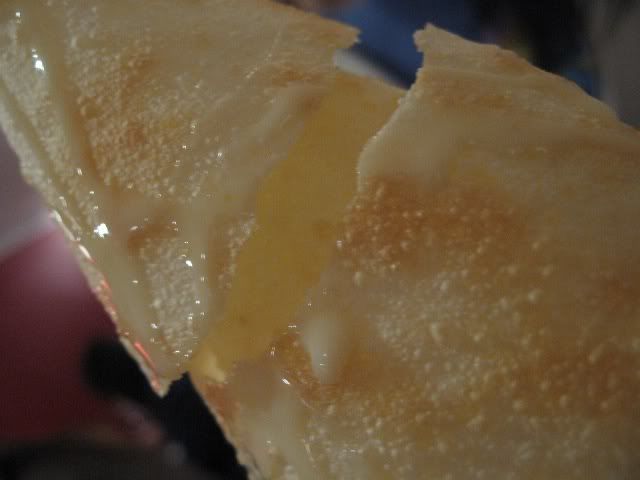 Super thin and super flavoursome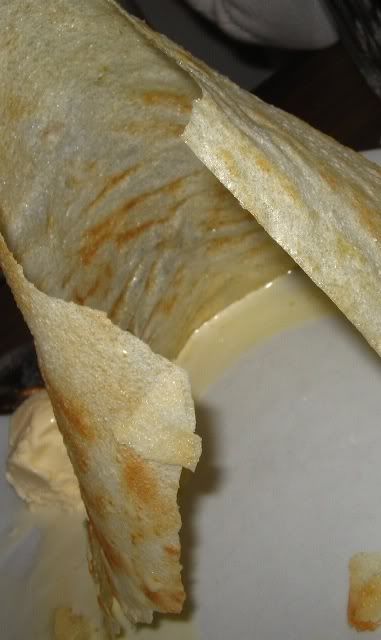 Cendol. What lurks beneath..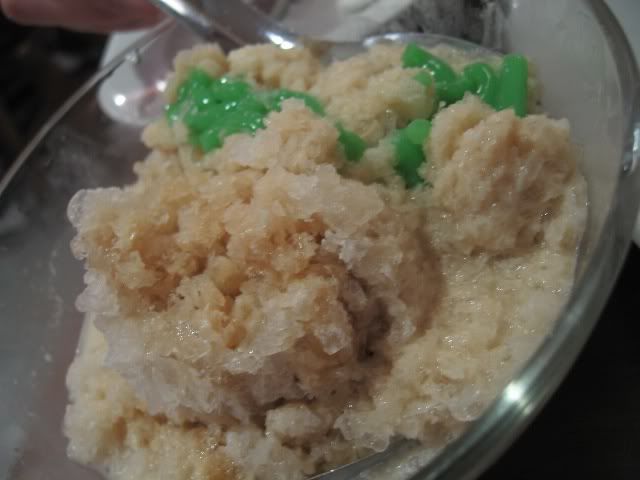 KA PLA!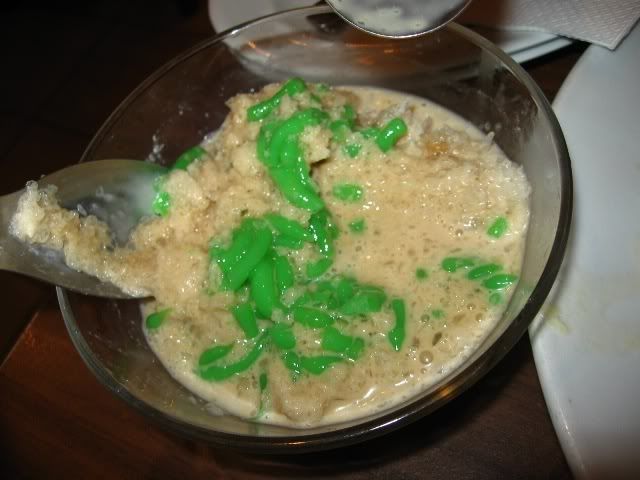 Mamak
15 Goulburn St, Haymarket, Sydney
Open 7 days
Lunch: 1130am to 3pm
Dinner: 530pm to late
Current Mood:

hungry

Current Music:

Frenesi ~ Eydie Gorme