Ingredients
Mustard oil
2 tsp Herbies Laksa mix*
1 tsp Simply Organic curry power*
1/2 tsp garlic granules
1 can coconut milk (no BPA)
1/2 cup natural creamy peanut butter2 tbsp soy sauce
Method
1. Heat mustard oil in pan, stir the laksa mix, curry powder and garlic granules till fragrant
2. Add tin of coconut milk (ensuring not to splatter yourself with it when the cream top plops out like I did)
3. Gently bring to boil
4. Turn down heat to medium low, gradually and gently stir in peanut butter
5. Continue heating and stiring periodically till it thickens
6. Pour the result over rice noodles, leftover bbq chicken, top with fried onions
7. Admire how very gloriously unattractive peanut sauce is (or my photography skills - either/or) give it a good stir, then dig in!
*Simply Organic Curry Powder: Organic coriander, organic turmeric, organic mustard, organic cumin, organic fenugreek, organic paprika, organic cayenne, organic cardamom, organic nutmeg, organic cinnamon, organic cloves.
*Herbies Spices Laksa mix: coriander, cumin, chilli, salt, fennel, galangal, coriander leaf, turmeric, sugar, garlic, cinnamon, cloves, lime leaf, lemon myrtle, pepper, cardamom
Wandered around pinterest for a quick recipe to go with leftover bbq chicken and flat rice noodles... didn't have all the ingredients from any recipe so mixed them up and did this instead. Not bad... so I better keep this recipe somewhere!
Current Mood:

amused

Current Music:

George Harrison - What is Life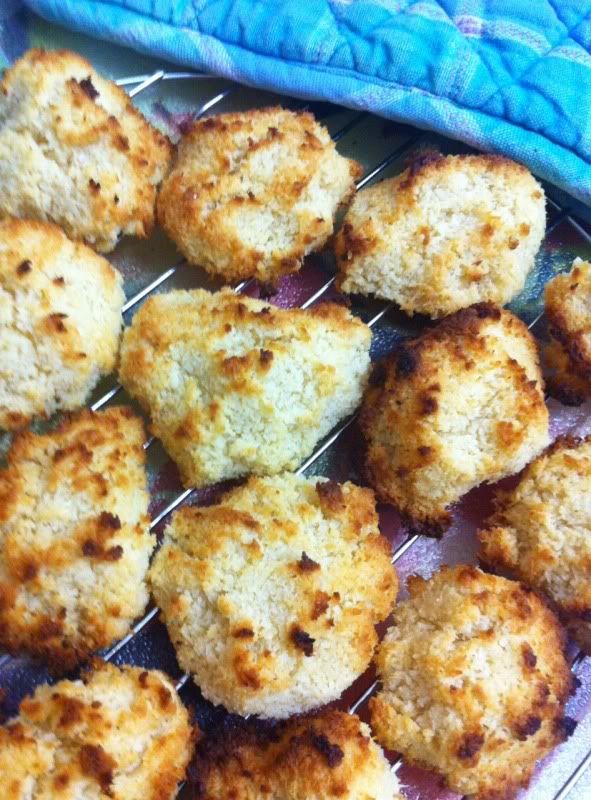 Are coconut macaroons. Now I realise that they look remarkably similar to the almond meal scones in the previous post, but these have COCONUT. MUCH coconut! And like the scones, no fake sugars. And they're MACAROONS!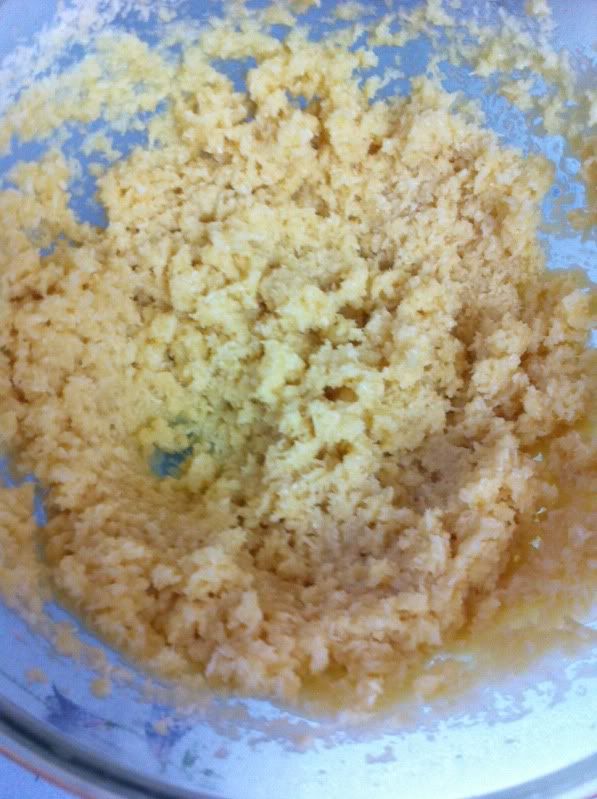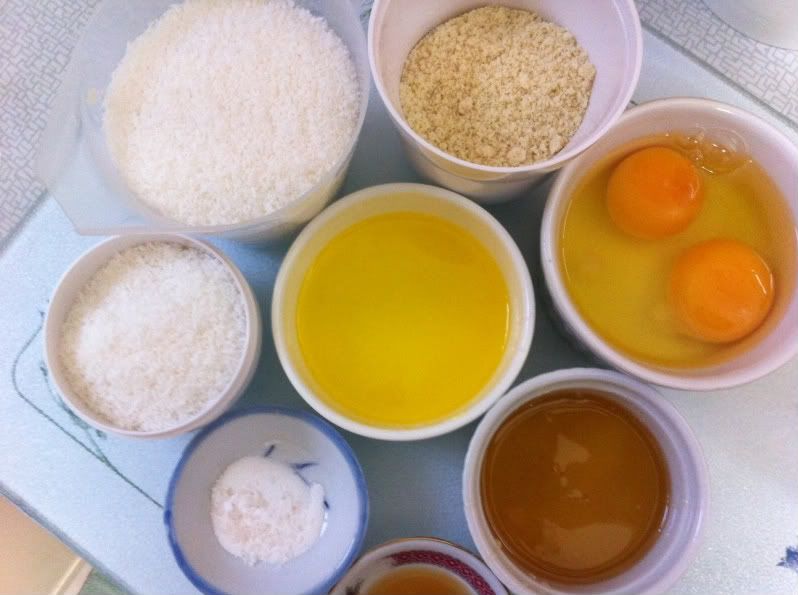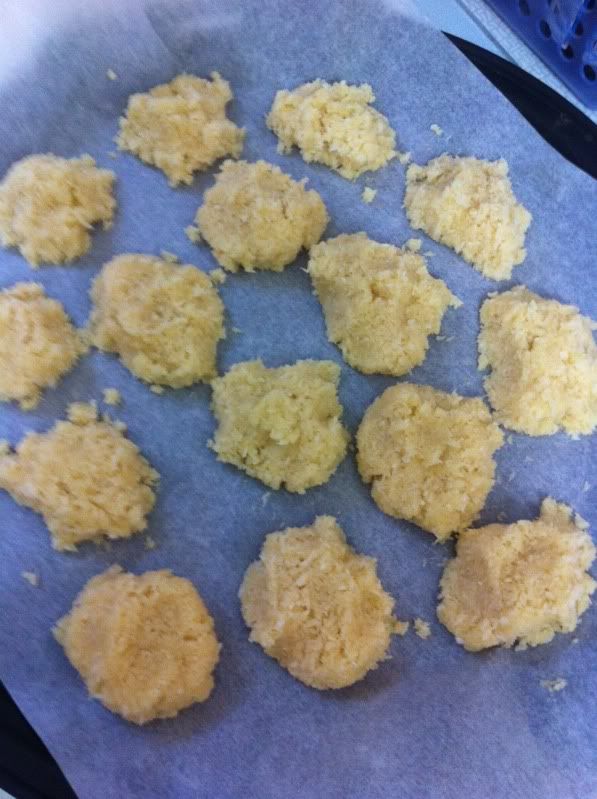 Low Carb Coconut MacaroonsIngredients
1/2 cup almond meal
1/4 teaspoon baking powder (gluten free)
1/8 teaspoon salt
2 eggs
1 teaspoon vanilla essence
3 tbsp honey
1 tablespoon butter, melted
1 1/2 cups unsweetened coconut
Method
1. Mix together the almond flour, baking powder and salt in a small bowl; set aside.
2. In a medium bowl, beat together the eggs, vanilla extract until foamy. Gradually beat in honey. Blend in the butter.
3. Gradually add the dry ingredients; mix well.
4. Fold in the coconut and mix until completely moistened.
5. Drop the mixture by rounded tablespoons onto a baking paper-lined sheet and gently shape with fingers into small mounds. Don't worry if they're close together as they don't spread while baking.
6. Bake at 325º for about 15 minutes, let them brown around the edges.
Makes about 14 macaroons.
Current Mood:

thing

Current Music:

No You Girls ~ Franz Ferdinand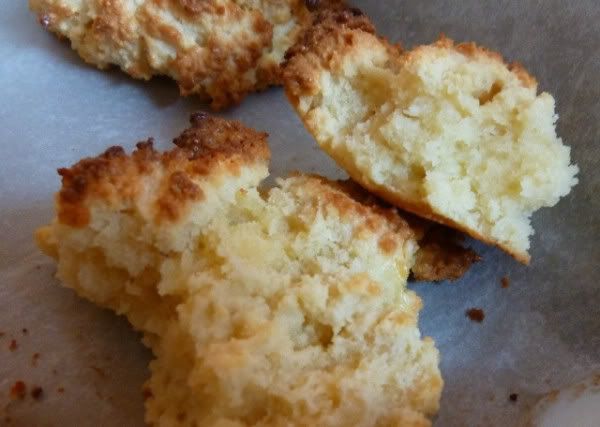 A minor scone craving of late prompted me to google for an almond meal alternative. I found a few recipes, mixed them up, took out the sugar variants, then made my own version.

It's a basic recipe, so you can mess around with it a bit to make them sweet or savoury. The almonds though, give a brilliant flavour on their own, so I love this plain version.. had one straight out of the oven, slathered in butter.

Despite the blobby rock look of them here (probably mostly due to my indiscriminate spooning out of the batter), they're fluffyish yet with a rich, velvety texture... almost the same texture as most regular scones I've had. Whilst scarfing it down I forgot the world existed for a minute.

I should note though, that being the first time I've made these, it may have possibly been a fluke that they turned out. I shall be experimenting again.



Almond Meal Scones

Makes 6

2 cups almond meal
1/2 tsp baking soda
1/2 tsp sea salt
1 large free range egg
3/4 cup thickened cream

1. Preheat oven to 190°c. Line a baking sheet with baking paper and lightly grease

2. In a large bowl, combine the almond meal, salt and baking soda

3. In a small bowl, whisk together the cream and egg

4. Stir the cream and egg into the almond meal mixture until thoroughly combined. You can fold in any variation ingredients here.

5. Spoon the batter in about 1/4 cup sizes, 2 inches apart, onto baking sheet

6. Bake for 12 to 17 minutes, until golden brown or a knife inserted into the centre of a scone comes out clean. Let them cool for 10 - 15 minutes on the sheet, then serve warm with butter or double cream and some fruit jam.

Variations which I'm going to try...

- 1/2 cup grated cheese

- 1/2 cup dark chocolate chips
- 1/2 cup chopped dates or raisins and a pinch of cinnamon or cardamom
- 1/2 cup dried or frozen blueberries and tsp lemon zest
- 1/2 cup dried or frozen cranberries and tsp orange zest

Or for extra sweetness..

1 tsp pure vanilla extract
1/4 cup honey or maple syrup or agave nectar

Also, if you can't have dairy or eggs, I have not tried either of these options yet, but...

- No dairy: try substituting the cream for grapeseed, coconut or olive oils
- Eggless: there is a flax substitute:

To replace one egg:
1 tablespoon ground flaxseeds
3 tablespoons water (or other liquid)

Stir together until thick and gelatinous.

You can also use whole flaxseeds:
1 tablespoon whole flaxseeds
4 tablespoons water (or other liquid)

Process seeds in a blender to a fine meal, add liquid and blend well.

Just realised it's been a year and a day since I last posted here. Oops.
Current Mood:

stuff

Current Music:

Blur ~ On the Way to the Club
246/365 ~ Scents o' the day ~ 03.09.10
Originally uploaded by ViolentKitten
Prada Amber eau de parfum Intense, La Maison de la Vanille Vanille Sauvage de Madagascar, Comptoir Sud Pacifique Amour de Cacao.

Gorgeous combination of the milky chocolate of Amour de Cacao, floral chocolate of Madagascar and the rich sweetness of Prada's amber, labdanum and patchouli.
Current Mood:

Mopey

Current Music:

Ghost 'n' Stuff ~ Deadmau5
I tried a few fragrances for the first time last week at the Make Up Store at Paddington. Their latest perfume release is a
Fragrance Library
which are
"written as a personal ad that describes the user of the fragrance"
. I don't care about that, I just care about the scent. :) I wasn't expecting to be crazy about any of them; as for the most part, they just seem like easy to wear fruity florals which I already have enough of.
There are eight in the range, edps and also candles:
Champion Deluxe
~ top notes: apple, peach, jasmine petals / mid notes: same according to the leaflet / base notes: musk, blonde woods, amber
Fashionable Lifestyle
~ top: pear, lemon / mid: violet, dewy lily, green herbs / base: marine, amber
Less is More
~ top: tangerine, red currant, pineapple / lily of the valley, cyclamen, mango / base: plum, musk, marine
Your Valentine
~ top: bergamot, pomegranate, pear / mid: cyclamen, peony, lily of the valley / base: vanilla, musk, praline
Holiday Luxury
~ top: rhubarb, tangerine, kumquat / mid: jasmine petal, lilac, green herbs / base: praline, peach
The Trophy
~ top: fressia, lime, grapefruit / mid: geranium, guava, peony / base: plum, tonka bean, cedarwood
Twenty Forever
~ top: bergamot, black currant, fressia / mid: white orchid, apple blossom, fresh rose / base: sandalwood, musk, amber
All Through Genuine
~ top: grapefruit, lemon, green apple / mid: lis ylang, violet, vanilla flower / base: almond, sandalwood, vanilla
I wanted to try Holiday Luxury but it wasn't available. The Trophy was very fresh on my skin and All Through Genuine was quite lovely, softening to a very pretty vanilla, but I have enough of those.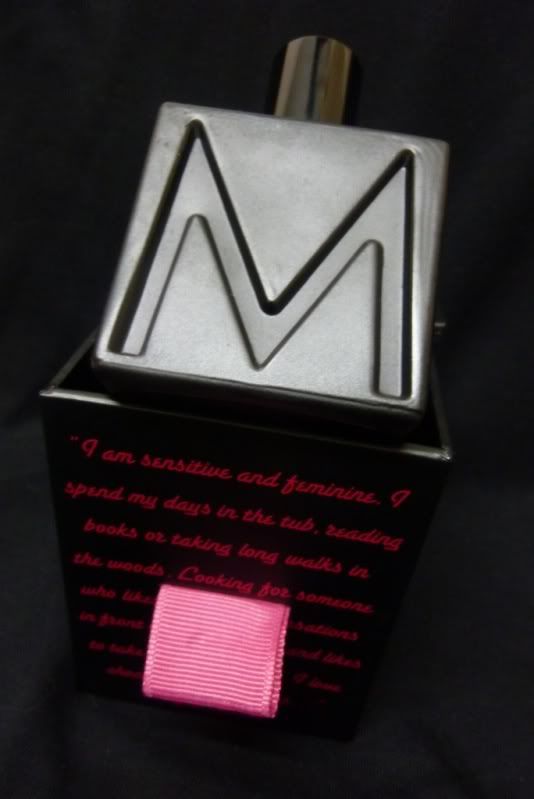 Your Valentine stood out among the others. It's quite strong at first, but something about it takes my fancy, as even though it's very sweet, it has a darkness to it, maybe the dark red of pomegranate juice which is lightened a little by fresh pear. The peony and lily of the valley come out just a touch; but it's when the gorgeous musk, vanilla and praline reveal themselves from the base, I become smitten. It's that smooth, airy toffeeish praline that clinches the deal for me, mixing in with the remnants of the pomegranate. Quite delicious.
Current Mood:

..

Current Music:

Daria ~ CAKE
Bodhi has been around for about 20 years now, starting in China Town I believe. It's now nestled between St Mary's Cathedral forecourt (just down the stairs) and the Phillip Park swimming pool.
I've been there for yum cha but it was moons ago and I don't remember what we had but do remember liking it. I have though, been to Bodhi twice for dinner this year. Both times it has been delicious and both times we've over ordered. Very easy to do as though the menu is not huge, everything sounds so good, and it is. The service is slightly confused but friendly. Second time we went we ended up with a dish we didn't order but we were so delirious with hunger after our Art Gallery trip and it looked so amazing we didn't notice and gobbled it up. They very kindly did not charge us for it.
They are very creative with their tofu and mushrooms and to be honest there are some things in there I just don't know what they are! But they taste very good and emulate the textures and flavours of seafood like prawns and scallops especially well.
My favourite dish I think would have to be the
Tofu sheet pillows stuffed with shiitake mushrooms, celery and coriander.
It's crispy and chewy and the flavour is just fantastic, especially squeezed with lime. Hmmmm, and also their
tempura 'prawns
' and
stuffed eggplant
.
The food in the pics below are from both visits...
The beautiful St Mary's Cathedral,
part of the Sydney Light festival on the way to Bodhi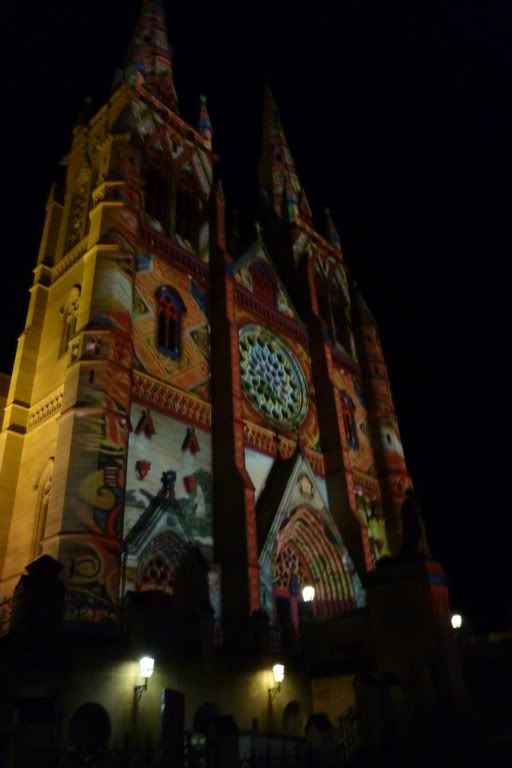 Entering Bodhi... it's prettier in the daylight and a more
skillfully taken photo by yours truly would have been helpful :)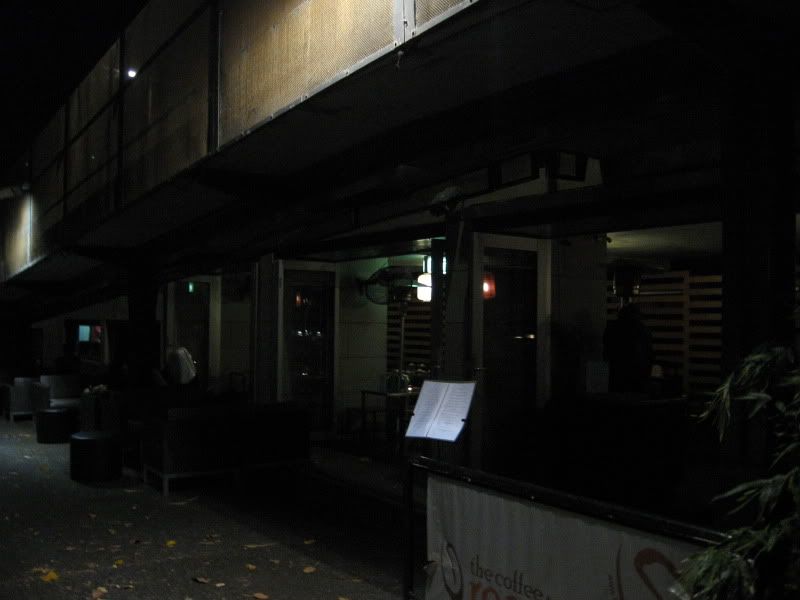 Inside and outside seating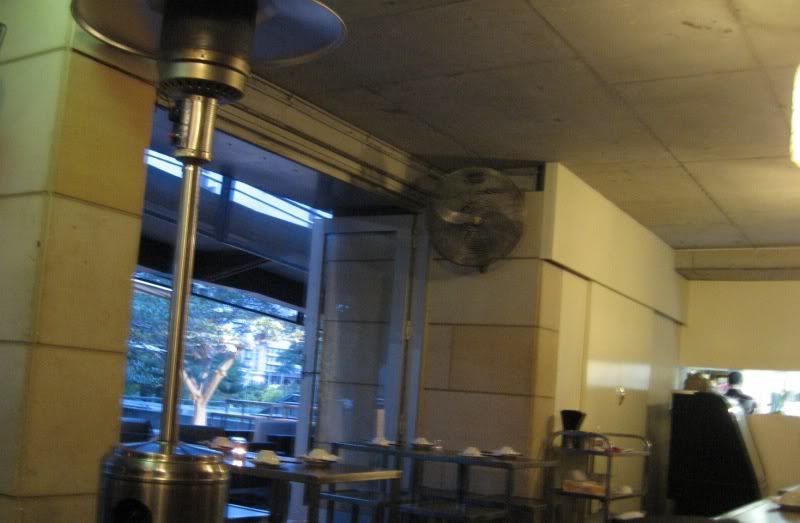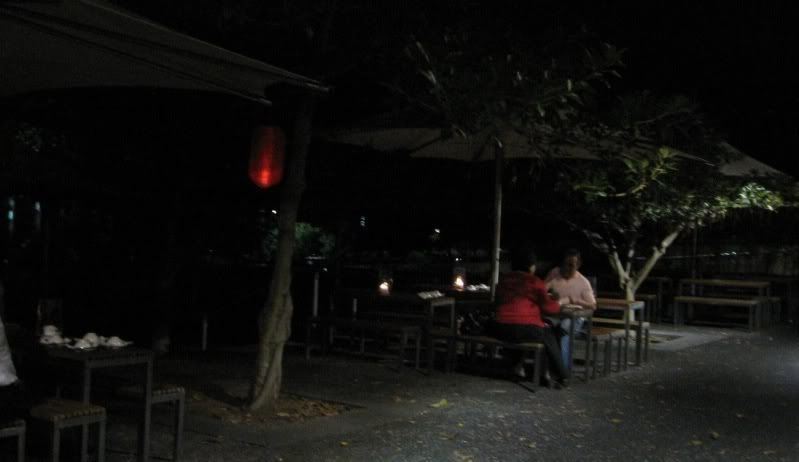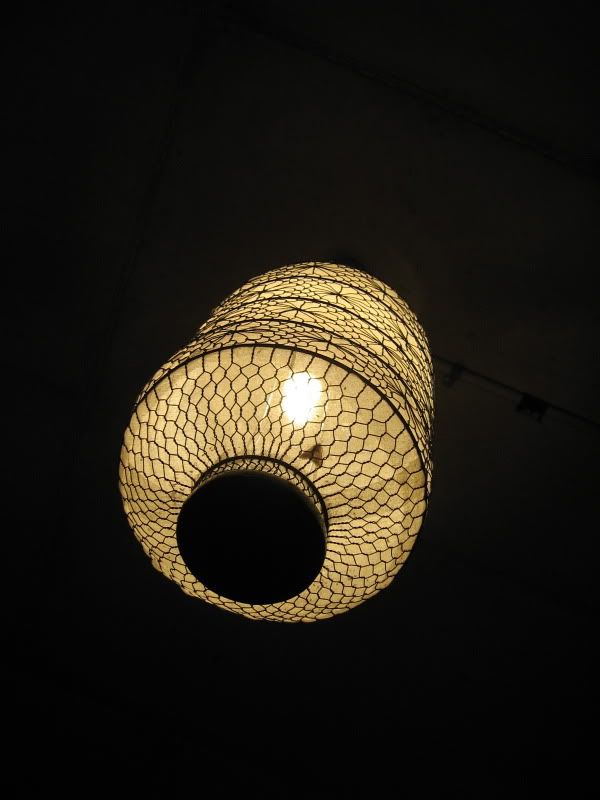 Various freshly squeezed juices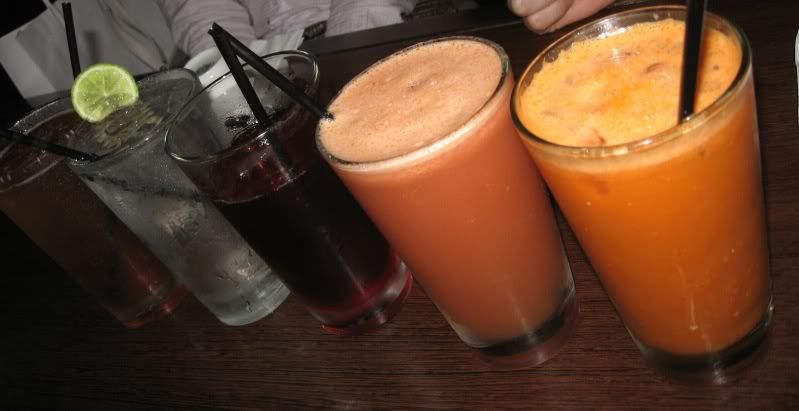 Lovely nutty brown rice and a small mix of yum cha
items for entree (I didn't try these... "WHAT?" You say?)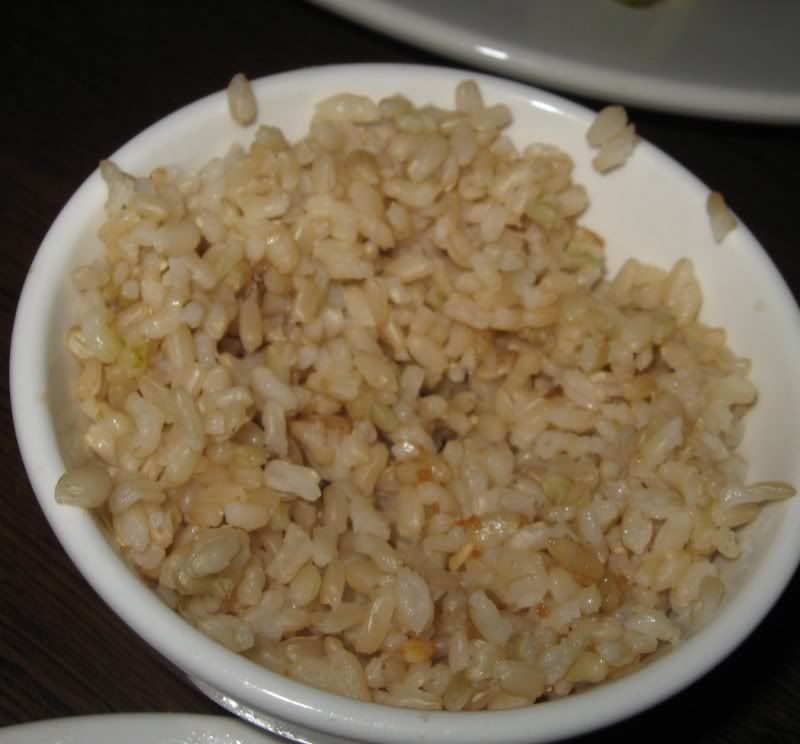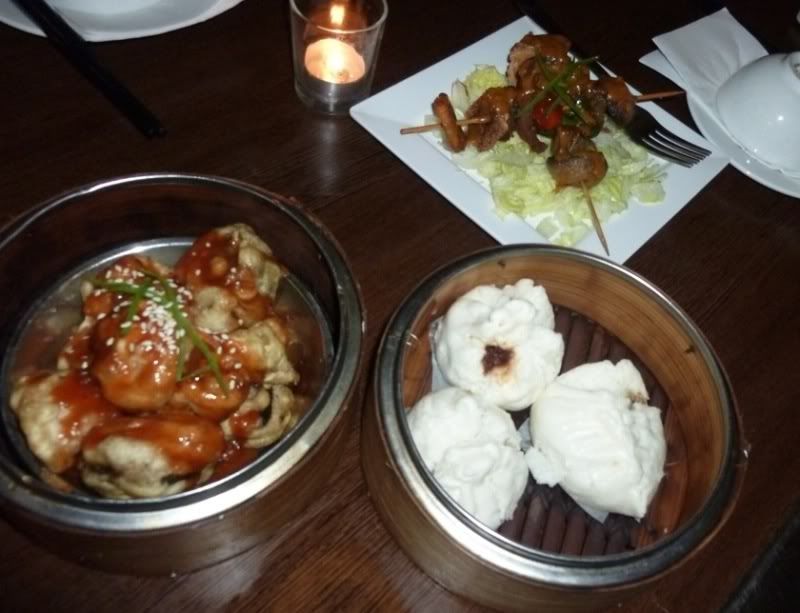 Dry green curry with lychee, asparagus, snow pea,
pineapple, tofu, bamboo shoots and pine nuts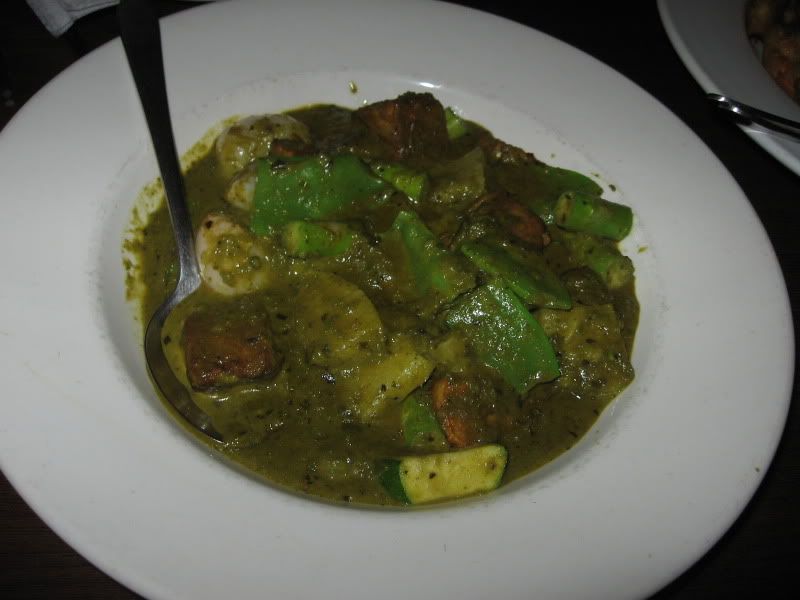 The pine nuts seemed an unusual addition and I didn't really notice
them in this dish. It was a bit too hot for my liking, and I love sweet things in
curries but their flavours didn't quite poke out enough for me.

Tofu sheet pillows stuffed with
shiitake mushrooms, celery and coriander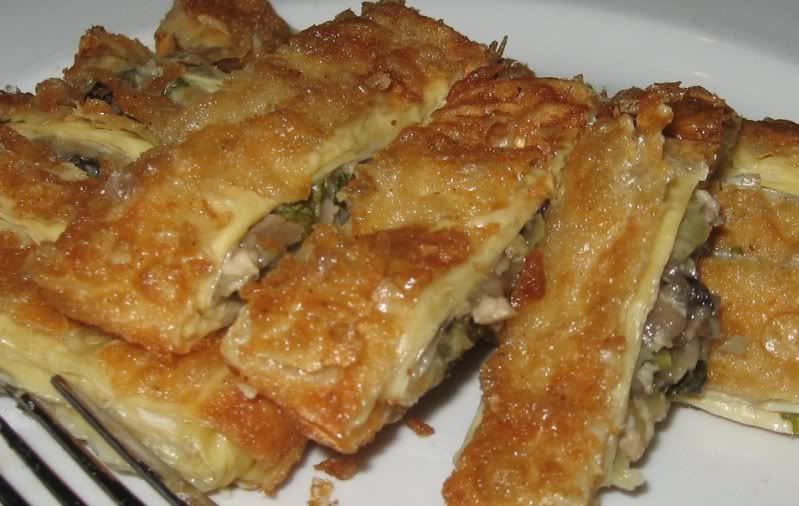 My favourite.

I love this one too though:
Salt and pepper, chilli tempura vegetarian 'prawns'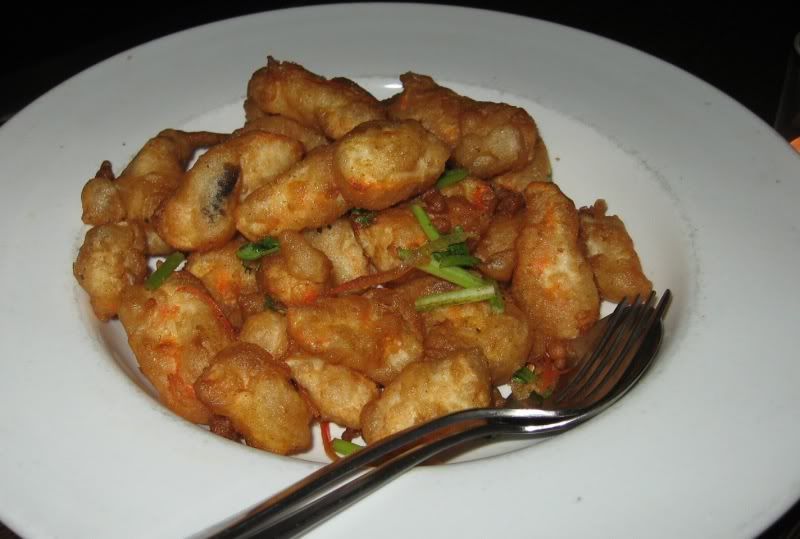 Oh, oops and another favourite: Roasted salted peanut spices topped on
fried eggplant with an asian mushroom stuffing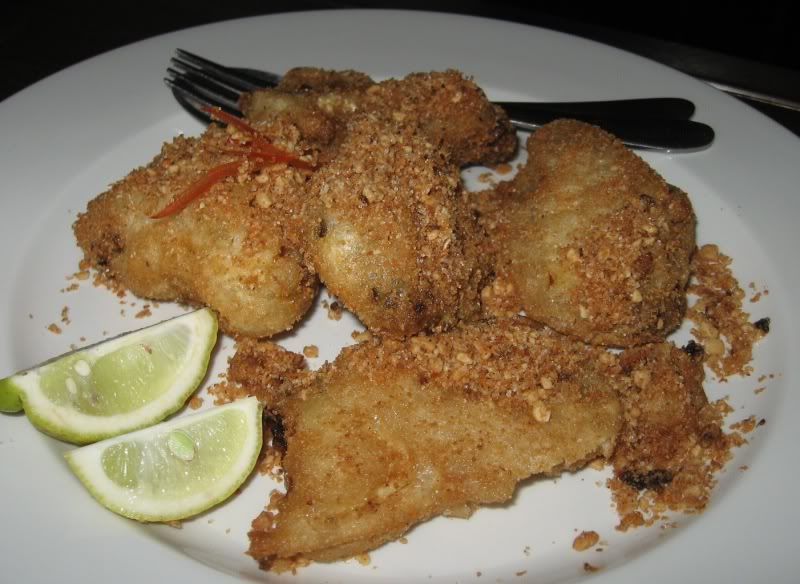 This is FANTASTIC. Wait, maybe this one's my favourite....

Stir fried veges


They look a little plain but they were tasty

Sweet vinegar and soy sauce glazed crispy shiitake mushrooms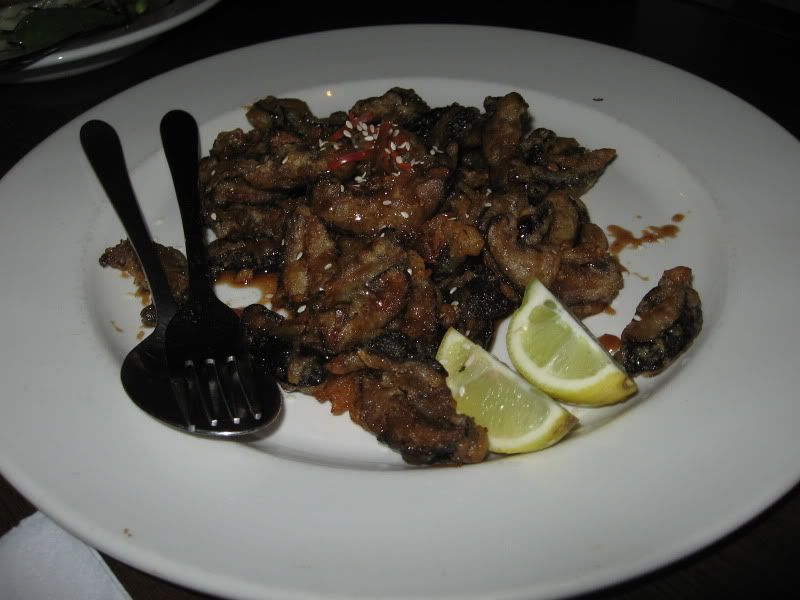 These are also rather delicious

Tempura king oyster mushrooms,
coconut and sweet Chinese soya bean milk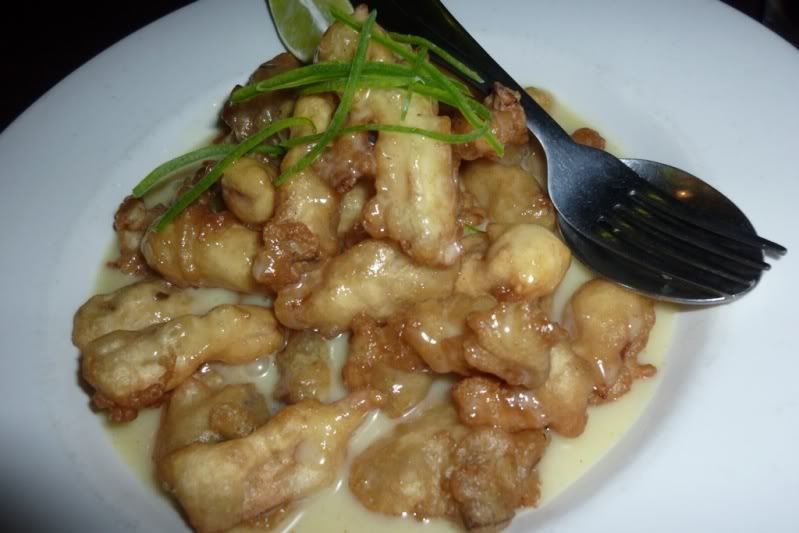 I thought I would absolutely love this and while I did like it, unfortuately
the batter was a little too thick and the sauce a little too plentiful and sweet.

Light festival again on the way home...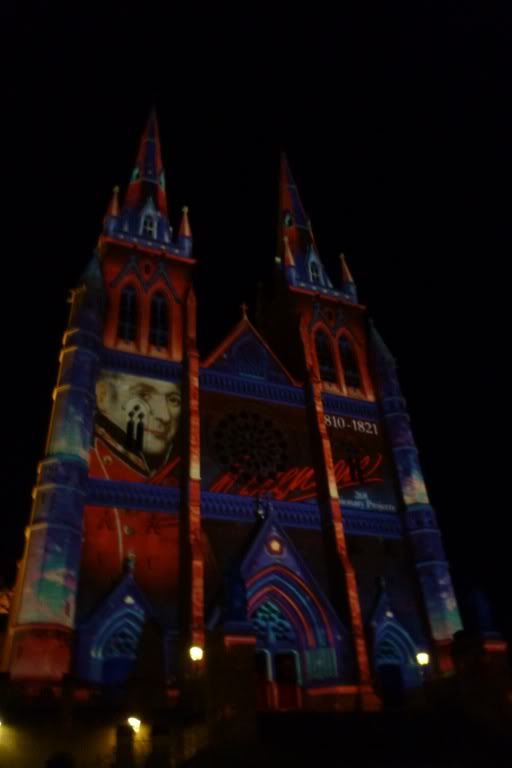 Bodhi in the Park

Cook and Phillip Park Leisure Complex
Cnr College and William St, Sydney
Phone: 9360 2523
Entrees: between $6.50 and $11.50
Mains: between $15 and $24
Current Mood:

bewildered

Current Music:

Lebanese Blonde ~ Thievery Corporation
I was very curious when the new Chloe edp was released in 2008, then the edt in 2009 and now the edp intense in 2010. I love the edt on my girlfriend, but on me was a little put off by the way it went slightly metallic on my skin.. now I don't mind it, gladly.
And now... I seem to have purchased all three, luckily at a discount from the excellent
Strawberrynet
. They all have a common thread of rose but quite different... brief thoughts so far:
edt
: the fruitiest of them, a hint of watermelon which is not overdone mixing with the iris, which isn't dry here. Sometimes with a slight hint of metallic which is not unpleasant to me now
edp
: the smoothest and most floral, the peonies and lily of the valley poking out beautifully with a little less rose
edp
intense
: the rosiest on my skin of the three with gorgeous pepper, spicy and warm with some honeyed notes on the drydown.
I love all three but I think the intense is my favourite. Annoyingly though, despite its name, it is not long lasting on my skin at all. It's fun to mix and match them though and they go quite nicely with my other favourites of the moment, Prada d'Iris Infusion and Prada Intense.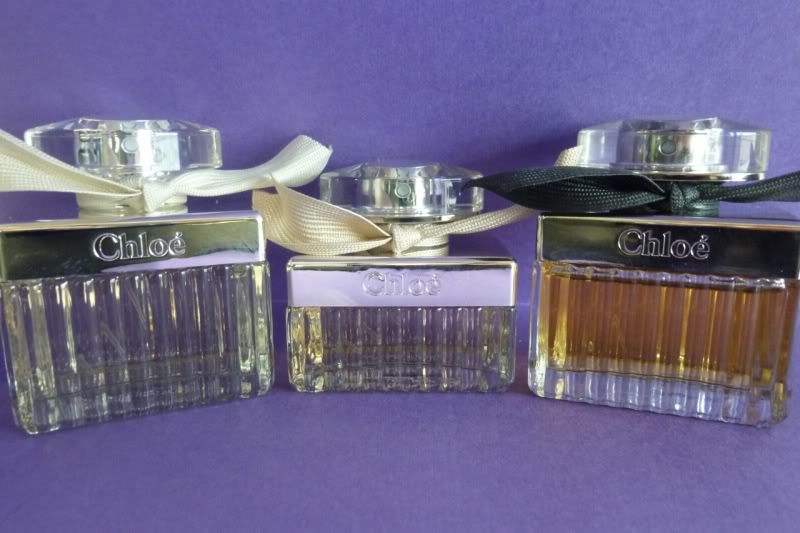 I love the bottles with their different coloured bows:
left to right: edt 50ml, edp 30ml and edp intense 50ml

Current Mood:

apathetic

Current Music:

Flake ~ Jack Johnson
It might not look awfully appetising, but I assure you, it was exquisite. This was the best photo I could take before I wolfed it down... and then rushed into the kitchen to make another one.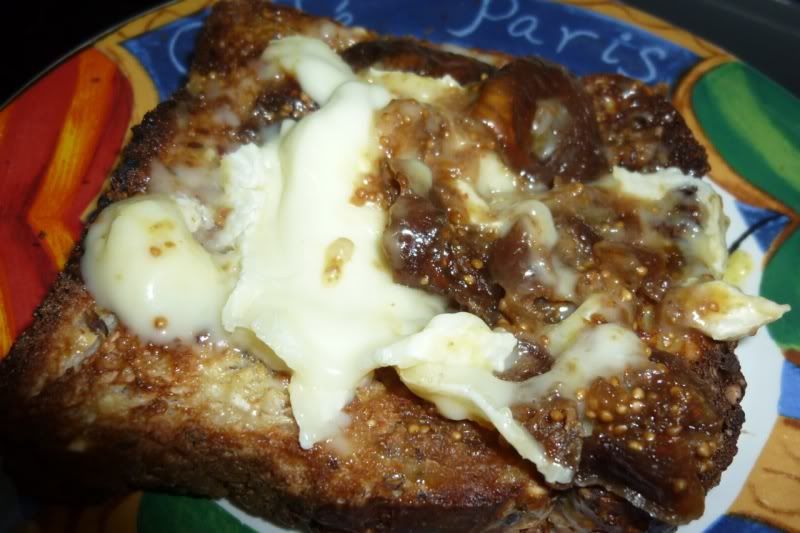 Brie and Fig on Toast

Ingredients

2 slices soy and linseed bread (I use Burgen Soylin)
2 dried figs
1/2 a round of brie
Butter
Method
1. Get the bread a toasting
2. Chop the figs, sprinkle with a little water and microwave for about 30 seconds until softened. Drain any excess water
3. Slice the brie, mix with the figs to warm it up a little
4. Spread the toast generously with butter
5. Pile on the brie and fig mix
6. Happily scoff
7. The end.
After a day that was kinda poop, this for dinner was bloody brilliant. I'm running low on food and pretty much all that was in the fridge was half a round of brie and two dried figs.
Current Mood:

bewildered

Current Music:

Stupidisco ~ Junior Jack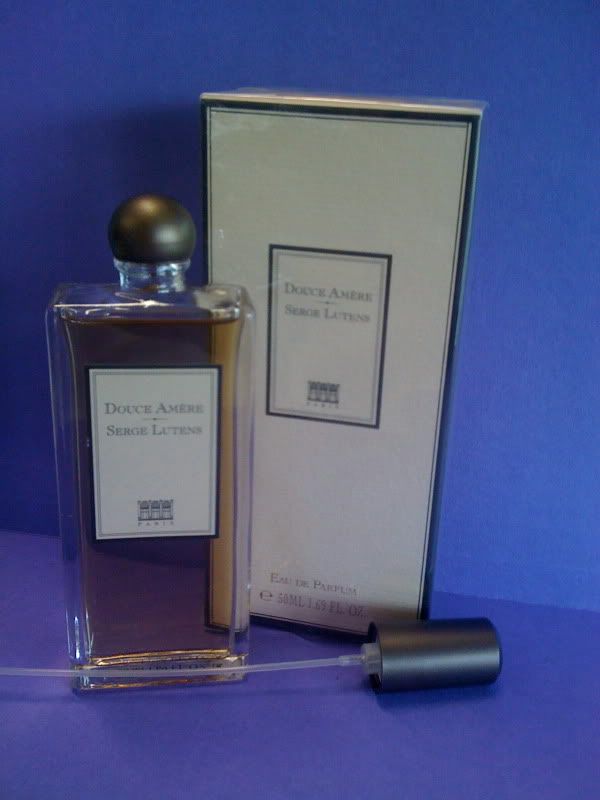 I have dramatically cut down on my perfume spend this year.
Ha.
Don't look so surprised. Or dubious!
It's a wise move, yes. One, I may possibly already have enough to last me a few lifetimes and two, I need to save money for other things. But then again, variety is indeed the spice of life and scent still provides such pleasure for me that I really can't totally deny myself something new now and then.
I was planning to make Alberta Ferretti the first of one of my few purchases this year, which I fell in love with late last year; but last week I discovered that Serge Lutens is discontinuing Douce Amere (along with, I've just now discovered,
Chypre Rouge, Miel de Bois and Clair de Musc.
My desire for Douce Amere began in late 2004. It wasn't a head over heels love, but the beginnings of it were there and my memories of it were strong enough to jump onto Strawberrynet and buybuybuy! Well, one bottle, and very fortunately for almost half the price! It arrived last week and it was just as I remembered trying it. Although wearing it properly I'm glad to say, it's even better. Just absolutely delicious.
The moment I apply, it floats around my skin in the most exquisite and ethereal way. Sweet and soft, a hint of creamy citrus, sweet anise, spicy cinnamon and dusky florals that don't overly pronounce themselves as such, but make the scent a little less gourmand than it could be. The dusky is of the kind to me that is a little powdery/dusty in a good way (like
Annick Goutal Songes
) along with a kind of cool warmth, like the feeling at sunset after a warm day which must be the star of the scent, the delicious absinthe, which doesn't seem to have a bitter edge on me. A hint of scratched fresh vanilla pods, a touch of smokiness and a chocolately overtone which is at turns like a smooth rich chocolate mousse and then a dusted truffle. As it dries down it reminds me a little of L'Artisan Passage d'Enfer, but but side by side Douce isn't as thin and medicinal as d'Enfer is. Douce is sweeter and more comfortable to wear, Passage can be a little cold. The final drydown is a soft, milky and musky clean cedar. Hurrah! It's a delight at every stage.
Douce Amere Eau de Parfum by Serge Lutens

Notes: Absinthe (Artemisia absinthum), cinnamon, anise, lily, jasmine, tiare, tagette, marigold, musk, cedar
Perfumer: Christopher Sheldrake

Oh, and um... hi :) I've not blogged for a wee while it seems. Last post where I mentioned life was getting a little too complicated? It got more complicated, then uncomplicated, then everything turned upside down, seemingly irrevocably, then things turned right way up again, sort of. And now, with the dust settling somewhat, there's still more to get used to and changes to come, but I'm getting there. :)
Current Mood:

...

Current Music:

Reflections Are Protection ~ La Roux
Due to the lack of egg whites it's rather dense, and I do love a light, fluffy mousse; but you know, dense can be good...in terms of chocolate mousse anyway. TOO good!
Super Quick Chocolate Mousse
Ingredients
:
150 gms dark chocolate
1-1/2 cups cream
2 tsp Baileys or Kahlua
Method
:
1. Whip cream until soft peaks form
2. Melt the chocolate in the microwave.
3. Quickly stir in the liqueur
4. Stir the whipped cream a few spoons at a time into the chocolate until smooth
5. Refrigerate until firm, less fridge time will result in a little less density
6. Top with strawberries, a few sprigs of mint and small dollop of cream
7. Try not to inhale it in one go.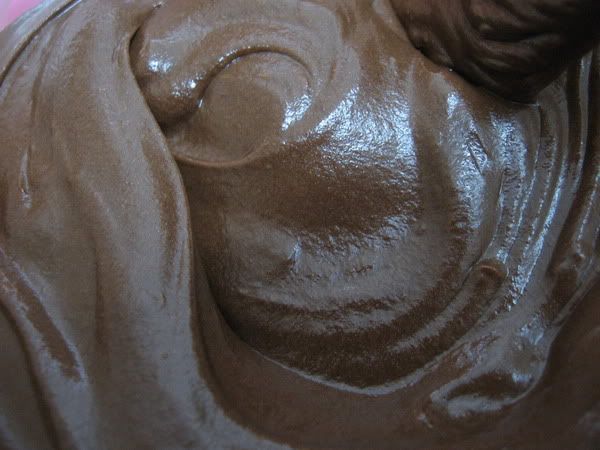 I'm still about, still alive. Life has just been a tad more... complicated. Meh! But this morning I suddenly craved chocolate mousse and remembered this one I made a wee while back. I can't remember where I found the recipe, it's a really simple one with few ingredients.
Current Mood:

...

Current Music:

Freedom ~ PNAU